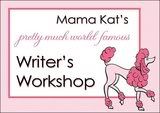 This week I'm trying something new: the writer's workshop at Mama Kat's Losing It. Like Josie at Sleep is for the Weak, she gives readers weekly prompts and then you link up to her blog and read the others.
The prompt I chose is 'Write about your wedding song. What was it and why did you choose it?'
We didn't have a wedding song.
We got married on the sly.
We'd been living 'in sin' for five years, but needed to be married so the children could get British passports. I wore a skirt I'd had a while, and a new top. A judge married us in a plain room. It was over in 10 mins. We did it while at work, a conference.
We didn't have a wedding song. We had a whole Opera.
We were married in New York, the Manhattan Municipal Building. We were there for a conference. We'd been wanting to get married for years, but with two nationalities between us, two sets of divorced parents, and us living in Turkey, it wasn't straightforward, so we put it off. A few weeks before we left a friend said: 'Do it in New York. It's easy.'
We announced to our relatives we were eloping and that they were welcome to join us. They sent my mother as a wedding present.
On 29 October 2003 we queued, for 15 minutes, in the Manhattan Municipal Building with our passports and birth certificates. We filled in a paper and chose our married names. We could have been Mr and Mrs Smith, or Withnail and I, Mork and Mindy. We kept our own names.
The next day my mum arrived and we went back together. Bill bought some yellow flowers that went with my new shirt, and Charlotte, then four, carried them. Max was running around in the corridors, making far too much noise. When it was our turn, the judge made us sign our names. We gave her sugar coated almonds decorated with Turkish Evil Eyes. She was pleased.
We had our lunch at the Tavern on the Green. My mother, the children and I took the subway. Bill met us a bit later - he'd gone to have our certificate stamped so we could have it certified by the French later. The French like stamps.
In the evening, we dropped the children off to my mum's hotel. And we took a limo. We went to the Met where The Barber of Seville was playing. Not quite the Marriage of Figaro, but nearly. We had a glass of champagne. It was beautiful. And because I hadn't quite recovered from the long flight, I fell asleep.
Oh, one last thing. If you liked this post, would you mind terribly clicking on the RSS feed, here, or the Google connect buttons (top left), or by email at the bottom of this page? And if you didn't like it, you might still want to look around. There's three of us, you know, so you're (almost) bound to find something you like. And then, if you've still got time, you could share this post or stumble it, or both and get in touch with your local tv station to sing our praises. We'll love you forever.