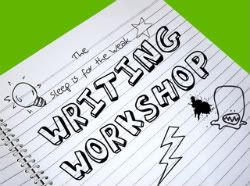 Josie, aka @porridgebrain from
Sleep is for the Weak
runs a weekly writing workshop. She gives prompts and bloggers blog. I decided that although I'd really like to take part, I wouldn't have time to do it this week. Then I read her prompts, and I had flashback of something scary that happened to our family last year. Rather than dwell on it I decided to put it on paper (well, screen) and so here it is.
Bad things happen while you're sleeping.
I keep my phone by my bed at night. That's because I use it as an alarm clock (as if we needed one of those with Max getting us up at six every morning!)
I'd already been asleep for a few hours when it rung. It was our baby sitter, very apologetic for waking me up. 'I'm sorry to disturb you, she says, I know it's very late, but... your building is on fire and you need to get out. Now'. Still full of sleep I get up to look out the window, and sure enough, everyone is outside and fire engines are arriving.
But we're all still in bed.
We get the children up, tell them to put their shoes and coats on. I open the door and look out, half expecting to see flames. I don't but I can't see anything else either. The corridor is full of smoke. Thick, stinky, you can't breath through it, smoke. I think, that's it, we're fucked. I tell my husband: we can't get out. We go to the balcony and start calling out for help. Except we're on the ninth floor, so even if they could hear us, there's very little anyone could do. I try to picture throwing the children off the balcony onto a mattress below, and I shudder. It's not going to happen. And then, I just think, calmly: that's it, we're going to die. It's the end of our family. A year and a half later, I tremble just typing this. But at the time, it felt perfectly fine. I was resigned.
Then my husband said: Let's go out the fire exit. I'd completely forgotten we had one! I also didn't know that the smoke is rarely where the fire is. Fire spreads wherever there's stuff to burn, but smoke always goes up. So the fire in fact never left the second floor, where it started, but all the smoke was at the top of the building! We were never at any risk!
So off we went, in a hurry. My husband and son had only two shoes between them, the children weren't wrapped warmly enough, we had no water, despite the fact that right next to our front door we had an earthquake bag packed ready for any emergency! I had my phone, though.
So when we'd finished trudging down nine flights of flimsy metal outdoor stairs, we called a friend who brought us extra shoes water and blankets. Neighbours kept dropping sweaters on the children too, so we all felt better.
Strangely enough, although it was about 2am, we were the only ones in our pyjamas. Most of our neighbours are graduate students, and it seems that when the fire started they were all still up watching downloaded movies!
Our friend offered to take us back to his home to sleep. We declined as we were told that the fire was nearly out and we'd be able to go back to bed soon. That was a mistake. When we eventually made it back to the flat, it stank so bad we had to open all the windows, and, in the October night, it was freezing. The children were afraid, as well as cold, so we ended up all four of us in the same bed, unable to sleep, worried it might happen again.
Even though we would probably have been fine, I'll be forever grateful to our baby sitter for calling us: she'd been staying in her boyfriend's flat in the same building. Had it not been for her call, we'd have slept through it. Although the security people tried to get everyone out, they didn't bother waking up the people on the top floors... When I talked to our neighbour in the morning, I found out she just hadn't known about the fire. She burst into tears and ran off to call her husband.
The next day we saw people emptying out the burnt flat. I swear I saw a melted fridge!
The next day was also the day we took our son to a child psychiatrist who told us what we'd long suspected, that he had autism.